Vol. James "Amy" Barron.
Ennis Company 1st Battalion Mid Clare Brigade
James "Amy" Barron of Newpark House was born at Ardkyle, Sixmilebridge on the 2nd June 1891 and was one of five children born to Timothy "Thady" Barron and Ann Hehir. He spent some time in New York but he returned to Ireland to avoid the WWI draft in the United States in 1917 and on returning home Amy joined the local Ennis Irish volunteers.
In the December 1918 General Election Eamon De Valera now President of both Sinn Féin and the Irish Volunteers but also a prisoner in Lincoln Jail was re-elected unopposed in Clare. He was also nominated to contest the seat in East Mayo, standing against John Dillon the new leader of the Irish Party. During the General Election campaign, Amy was amongst one hundred and fifty Clare Irish Volunteers who were ordered to Mayo to 'bear arms' for President De Valera in Charlestown and Carracastle. The Clare men were to escort canvassers, protect and guard supporters during rallies and election meetings as well as being in attendance and visible at Polling stations. While in Mayo Amy was introduced to his future wife Evelyn McDonnell of Cavan, a Cumann na mBan member.
As the War of Independence progressed from 1919, Amy was a very active member of Ennis Company, 1st Battalion, Mid. Clare Brigade until the Truce. In many witness statements, brigade and archive records Amy is mistakenly referred to as Eamon Barron, but it is noted he took part in a number of engagements including laying in ambush at Moyriesk 10th September 1920, the capture of Ruan barracks 18th October 1920, Quin, Roslevan, Cahera ambush 19th January 1921 and the attack on Shaughnessy's Public house, Ennis, 16th April 1921.
Shaughnessy's in the Market area of Ennis was a meeting place for off duty military and collaborators around the town. The IRA had issued several warnings to the publican regarding serving Military and Black and Tans but these were ignored, he was a loyalist and the income was good. In response, eight men, including Amy, with revolvers and grenades attacked the pub. At about 10.00pm after going through the front door a mills grenade was thrown as the other volunteers fired. Sergeant Rew a member of The Royal Scots was killed immediately, Constable Vanerburgh along with two civilians, Mrs Danagher and Miss O'Shaughnessy were wounded. In retaliation the Black and Tans burned several premises in Ennis, including TV Honan's, The Old Ground Hotel and the home of Patrick Considine. The 1st Battalion avenged these burnings by destroying Mill View House the home of the Mills family, Mr Mills an ardent unionist and Orangeman.
It is noted referring to Amy in the Mid Clare Brigade activity reports and signed by Brigade O/C Sean O'Keefe that "This man had an exceptionally good record" a unique reference not credited to other volunteers in Ennis.
Shortly after the Civil War commenced in June 1922, Amy was interned at Gormanstown camp in Co. Meath after taking the anti-treaty side. The Civil War was over in May 1923 after the declaration of a ceasefire by the anti-treaty forces and the order to IRA volunteers to dump arms. Five months after the cessation Amy was still incarcerated. The High Court of Justice ruled on 31 July 1923 that a state of war no longer existed, and consequently the internment of republicans, permitted under common law only in wartime, was now illegal. Without a formal peace, holding 13,000 prisoners and worried that fighting could break out again at any time, the government enacted two Public Safety (Emergency Powers) Acts on 1 and 3 August 1923, to permit continued internment. In the Dáil on the 31st October 1923 Clare Farmers Party TD Conor Hayes asked the Minister for Defence, Richard Mulcahy whether, in the case of James Barron, Newpark, Co. Clare, arrested at his home early in July, 1922, it is still proposed to hold him interned, in view of the fact that he had not borne arms in the irregular campaign. General Mulcahy replying to the query said "The release of Mr. Barron had been ordered and was about to be effected when he went on hunger-strike. As a result of his action it will be necessary to reconsider the question of releasing him later." Around 8,000 Republican prisoners in Free State gaols, including Amy, had gone on a hunger strike that month in protest at their continued detention after the war's end. It wasn't until July 1924 that most of the internees were eventually released.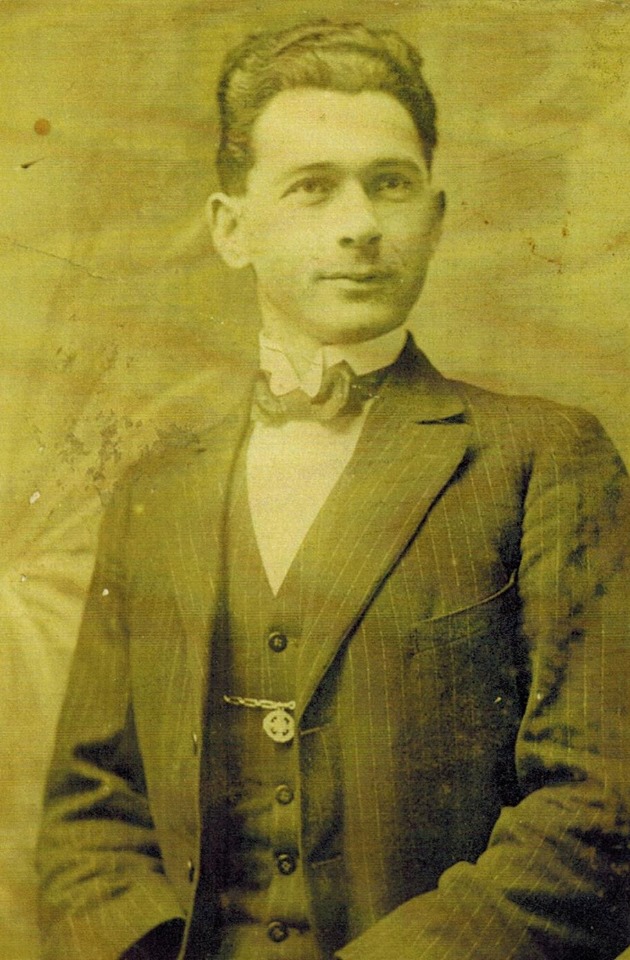 On his release from Gormanstown Amy and Evelyn decided they didn't want to remain in Ireland under the Free State government, seen from a Republican like Amy as an oppressive tool of former British rule in Ireland and they immigrated to Australia. After a couple of years in Australia, Amy and Evelyn moved again to the United States. They returned to Ireland circa 1930 and set up home in Clonakilty, Co. Cork, but Amy soon returned to New York to work. In 1935 Amy came home for good and decided to rent a grocery shop and bar at 36 O'Connell St., Ennis. Circa 1950 he started farming on his sisters property, Newpark House, and purchased it from her soon after and remained a farmer for the rest of his life, the work he enjoyed most. The shop on O'Connell Street, which was primarily run by Evelyn was sold in the early 1970s and Amy and Evelyn moved to a new bungalow at Newpark.
Amy and Evelyn had two sons Earnan and Fergus and grandchildren Declan, Gary, Colm, Mhairi, Kevin and Anne. Amy enjoyed a full life and died in his 95th year on 6th December 1985. He is buried in Doora churchyard.
---
The Sunday Press 7th May 1978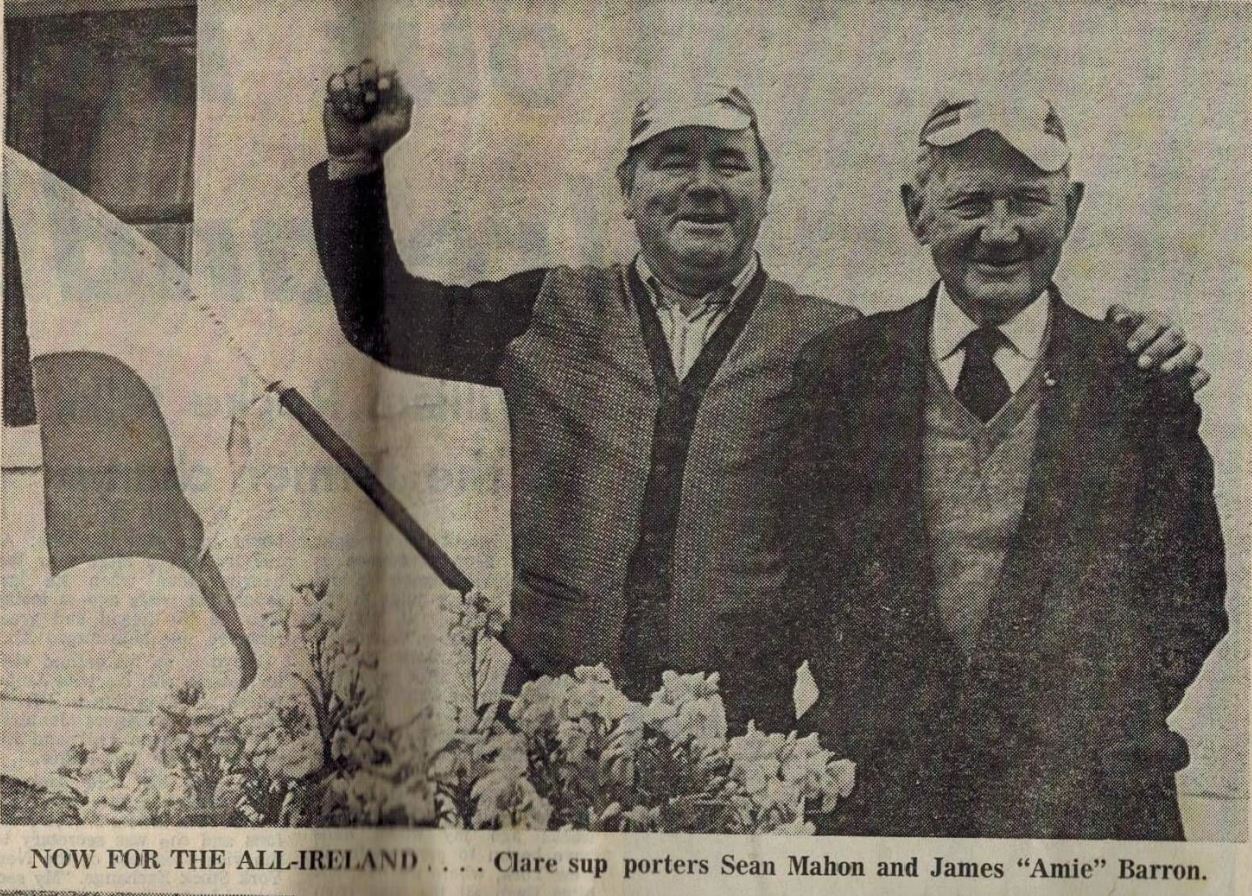 ---
Amy Barron Brigade Activity Report Ennis Company

---
Mrs Barron Goal Pass Limerick